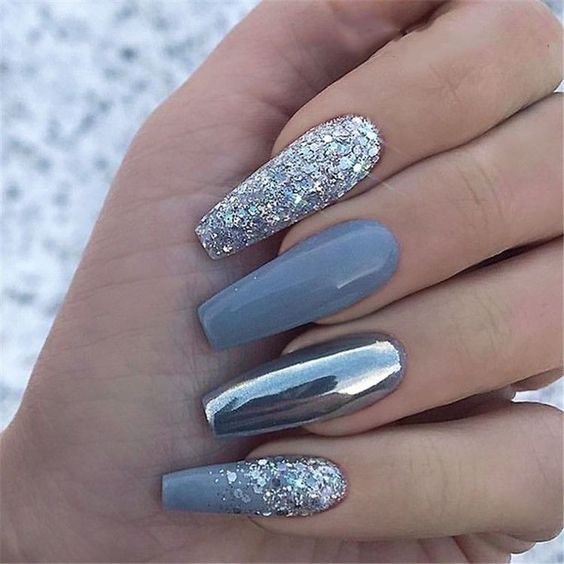 Coffin Acrylic Nails Colors and Looks
Interested in a chic, statement nail look? Coffin nails could be exactly what you need in your life. Before we dive into the nitty-gritty of coffin nails, we know you might be wondering "what are coffin nails?" So glad you asked! Coffin nails are a long nail shape that's rounded, or curved, just until you get to the tip of the nail where it is squared off. Coffin shaped Acrylic nails have grown massively in popularity because of it's unique, modern aesthetic. If you're looking for something totally different you will want to check out some of the 30 + best coffin acrylic nails to try this year.
Feeling inspired? We sure are! It's no wonder why Acrylic coffin nails have become such a big trend in 2019. One of the easiest ways to give your nails a whole new vibe is to change the shape and length. Most of us have all stuck to the basic nail lengths and shapes for most of our lives at this point. It's a new season and the perfect time to switch things up. Not to mention, coffin acrylic nails give your hands and fingers a slimmed effect. Because of the elongated shape of the nails it gives your fingers a similar illusion. Pretty cool, right?
The good news is even though coffin acrylic nails are more of a bold shape, you can keep the color and nail art aspect of your manicure simple if you need to keep it professional for work. Of course, you can still go all out with rhinestones and other detailed nail designs. It's really all up to you, your personal style and what works for your lifestyle.
We love some of the bright and light color tones that are popular for spring/summer this year, such as white, pink, nude and grey acrylic nails. The solid colors look beautiful on coffin acrylic nails. One of our favorite coffin nails is the sky blue color with rhinestones added to one of the nails. It's such a pretty color for the warm weather months and the rhinestones add just enough glam without feeling like it's a little too much. As far as a bolder coffin acrylic nail we're in awe over the hot pink ombre look we stumbled across. Neon is EVERYTHING this year, even with your nails and really you can't ever go wrong with pink nails. The ombre effect really emphasizes the coffin nail shape for even more of a pop.