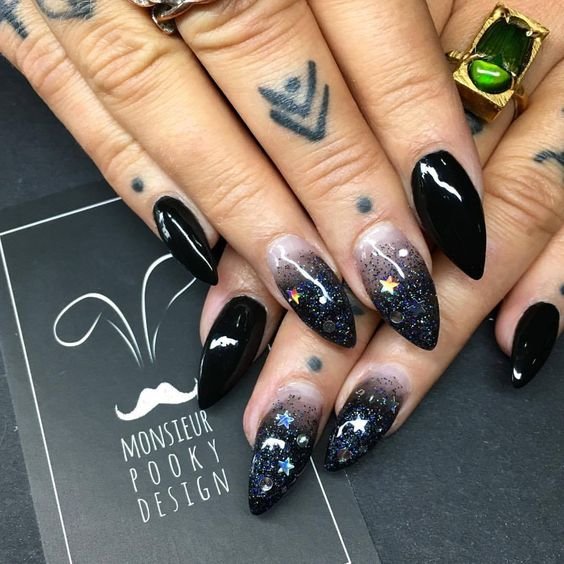 Gothic Nail Art
Edgy fashionistas! We've got some major nail inspiration for you to try. Love all things with an edgy vibe? It doesn't matter the time of year, edgy vibes are always a fun aesthetic. Gothic nail art is the perfect way to adapt your personal style through your nail design. Hint: black polish isn't the only way to rock gothic nail art. We've found some of the most stunning gothic nail art to share with you to step up your nail game. These will look great regardless of the time of year, when you want to embrace the gothic look.
Stereotypically when we think of gothic style anything our minds immediately go to the color black. We love that these designs adapted so many different colors while maintaining the overall gothic vibe. It really goes to show that there's a lot of creative leeway with beauty and fashion. Whether you dress with a gothic style aesthetic or you're just thinking of trying something new with your style and adapt an edgier twist there are plenty of ways you can make gothic nail art your own.
Now that we're in the midst of the spring season you may not necessarily want to go with a black nail look, but still want something with a gothic twist. We love the pastel and multi-color skull gothic nail art design for the season. It's the perfect combination of the typical spring colors we all love, while staying true to the edgier look of gothic nail art with the skull design on one nail. We're also in love with the glowing gothic nail design. This season there's been a lot of glow in the dark fashion, those nails are a fun way to add the trend into your nails! Not to mention, if you have glow in the dark nails you will be the talk of the night at any party you attend on the weekend. What a statement!
While a lot of the gothic nail art designs are featured in long, stiletto shaped nails any nail length or shape can be used to recreate some of these looks. Even if you don't have a lot of nail to work with, use your favorite designs as inspiration for your own unique take on the look. Play around with different textures and colors to embody the gothic look on your nails. Most importantly – make sure you're having fun with it!