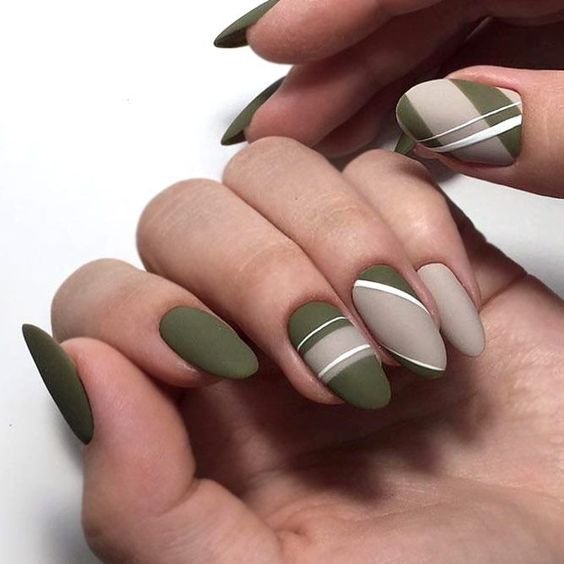 Green Nail Polish Designs
Feeling a little green with envy? If you've been on the hunt for an out or your norm nail polish color, we suggest giving green a go! You don't have to wait for fall or the holiday season to have a stunning green nail color. Believe it or not, there are quite a few different shades of green polishes that will quickly make this your new go-to manicure color. To prove it to you we're sharing over 30 green nail polish designs we know you're going to obsess over. Get ready to book your next nail appointment after you see some of these green beauties!
Now that you've scrolled through some of our favorite green nail designs we know what you're thinking…you need to get some green nail polish in your life. We know, we felt the same way. It's funny how so many of us almost forget about all the different nail color options we have at our finger tips (pun intended). Green tends to be one of the forgotten nail colors which is why we wanted to spend some time highlighting the color. It's such a fun nail color choice that offers so many options to change up the look of your nails.
We loved the use of green with nude nails. The 'nude' nail look has become a HUGE trend, we're expecting to see quite a bit over the next year or so. There's something about the appearance of some empty space on a nail that provides a modern aesthetic. One of our favorite examples of this is the nude nails with very thin line of neon green on the tips of the nails. The pop of color on just the tip of the nails is unexpected and so stylish. Of course, we also have a special place in our hearts for the neon green nail designs. Neon anything is fun, particularly on nails.
As we're beginning to close out the summer season it's one of those times of the year where we all need that extra boost of inspiration. Whether it's with fashion, beauty or nails – the beginning of one season and end of another calls for trying out something different with your look. Our hope is that we've inspired you to try a different nail color. Hopefully you'll give green a go, if you've never tried it in the past. Whatever style you resonate with, we're certain there's a green nail design that will suit you.
Just be prepared to have everyone envious of your green nails!