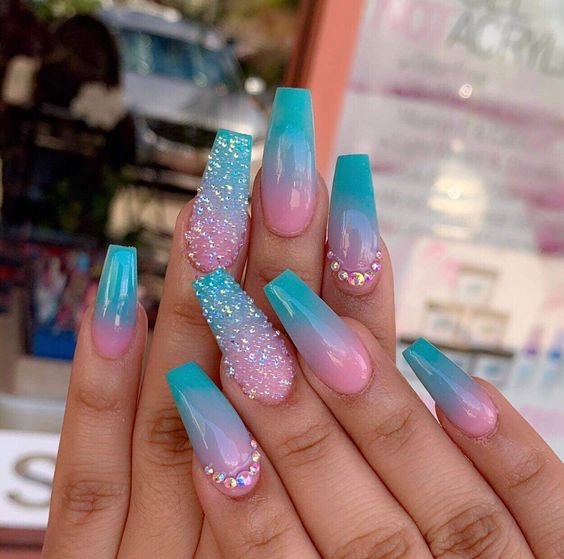 Mermaid Nail Art Inspiration
Give your nails a little under the sea vibe this season with mermaid nail art. Whether you've always wanted to feel like a princess (i.e. Ariel) or you just want to summer-ize your nails this trend is one you will want to give a whirl for your next manicure. Before you think this trend is all about Disney inspiration, scroll through some of the mermaid nail art designs we've stumbled upon. We think you're going to be really inspired to get your nails done with a little mermaid vibe. Scroll through to see some of our personal favorite mermaid nail art designs!
Are you on the mermaid nail art train yet or what?! We can't imagine not feeling inspired by some of these gorgeous nail designs. Talented individuals have found so many creative ways to encompass the mermaid aesthetic in different ways. There really is something for everyone! If you want to stick to your favorite childhood mermaid, Ariel, we love the deconstructed idea with elements from the Disney Princess's look on each nail (as shown in the first nail design).
Of course for the ladies who want to add some mermaid vibes to their nails in a not-so Disney kind of way there are plenty of other ways to do that. We love the use of scales on so many of the nail designs. Scales are definitely a mermaid staple. Hello, their tails! And because of that you can use your creative energy to try different colors and finishes to achieve a mermaid design on your nails. If you like the scale look we suggest using a stencil to create the look. It will be much easier than trying to free hand the design. Although if you can free hand scales on your nails – we fully admire your patience and skills!
Mermaid nail art is perfection for the spring and summer seasons because of all the beautiful colors used to design the artwork.
As you probably noticed as you scrolled through some of our favorite designs there's no shortage of colors, glitter and embellishments. There is always something about the warm weather months that leaves a lot of us eager to embrace brighter, bolder colors for our nails (and clothes). If that's where you're at right now, mermaid nail art is going to be a new favorite for you. There are no hard rules with mermaid nail art so just have fun with it!