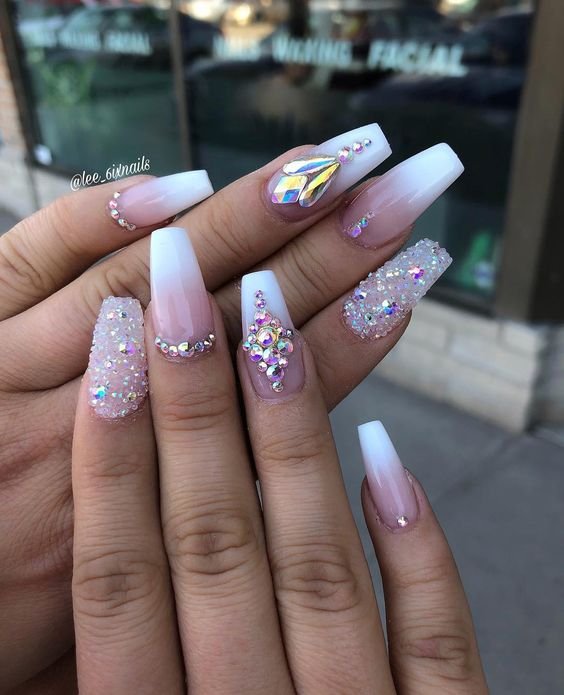 Advertisement
Nail Designs With Rhinestones
Want to add some glam to your nails? Rhinestone nails are the epitome of glam. Obviously, right? This season rhinestone nails are going to be a huge trend and we're here for it. For the ladies who want to be a little extra with their manicures, you're in the right place because we've gathered 40 stunning rhinestone nails to use as inspiration for your own nail art. Whether you want rhinestone nails that are super over the top or something that just has a touch of glam we have you covered with a great variety of rhinestone nail designs to check out.
Are rhinestone nails your favorite yet? We're officially obsessed with this nail trend after we found all these designs. Even though it is a trend that we often associate with being rather over the top and ultra glamorous some of these designs definitely show that rhinestones can be subtle and discrete. The best thing about nail design is it's a great way to let your personality and creativity shine in a way that isn't permanent. If you end up with a nail design you're not obsessed with you can always change it – pretty great, right?
For the do it yourself women rhinestone nail designs can be created at home, you will just need a few tools. Obviously rhinestones are a necessary component to creating a rhinestone nail design. This is where you can really have fun, we suggest getting a variety of different rhinestone colors, shapes and sizes. There are plenty of places you can purchase rhinestones. Your local craft store should have a pretty good selection of rhinestones. For the online shopper check out sites like Amazon, eBay and AliExpress for a wide rhinestone selection. In addition to the actual rhinestones you are also going to need glue and tweezers. Make sure the glue you use is safe for your nails, don't just use any old glue you stumble across. The tweezers are to make placing the rhinestones onto your nails easily. We don't suggest trying to use your fingers to place the rhinestones. The stones will likely stick to your fingers and make it really difficult to achieve the precise design you want.
We have to admit we love some of these rhinestone nails so much we're hoping this nail trend stays around for a while. Use these rhinestone nail art designs to try the trend out on your own nails!