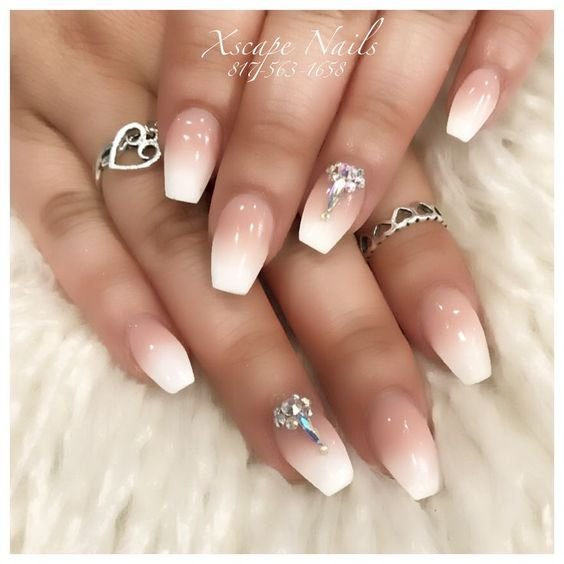 Solar Nail Designs
Ahhh the nail world, it's always changing and giving us new ways to rock gorgeous nails. No complaints around here! You're probably familiar with acrylic nails, recently there's been a new type of faux nail application that's sweeping the nail world. What is this new nail trend, you ask? Solar nails! If you're anything like us, when you hear the word 'solar' in regards to nails you're really not sure what to think. Don't worry though, we've got all the details so we're going to explain this new trend to you.
So let's start by explaining what solar nails actually are. Solar nails are a form of a false nail, the biggest difference between solar nails and other false nails is that they are applied directly to your innate nail. Solar nails are applied with a French manicure appearance. During application there is a white portion of solar nails that is placed onto your entire nail, after the white portion of the nail is applied technicians then place a pink toned onto the nail taking up only the nail bed (not cover the tip) of the nail. Hence, giving you a French manicure type of look from the get go. While you can certainly leave the French manicure look alone for a simple look, you can also paint over solar nails for a unique look that's all your own to allow you to still have fun with your nail designs.
The big question many consumers have with solar nails is what the difference is between these and traditional acrylic nails. To put it simply, acrylic nails are utilized for extension purposes. Many even refer to acrylic nails as nail extensions. Solar nails aren't extending the length of nails, but rather going over your natural nail. Many experts in the nail world believe solar nails are a healthier option because of the fact that they don't put the same stress onto natural nails as acrylics do. Another big difference between the two is the refilling situation. Acrylic nails often have to be refilled approximately every two weeks, while solar nails require refilling approximately every 3 weeks.
Now that we've cleared the air and giving you some of the details about solar nails, we can't leave you without some solar nail design inspo! Scroll through to peek at some of the solar nail designs we've come across and LOVE.